Asbestos in the Attic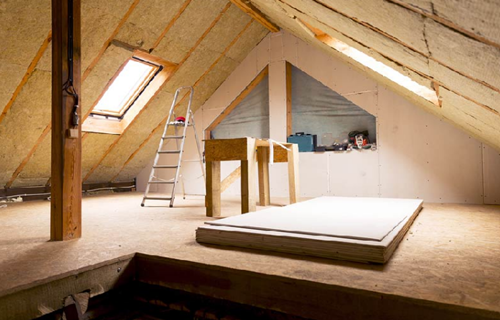 In older homes, asbestos insulation is standard and represents a constant risk of exposure to the people that live in the house. Asbestos causes lung diseases and cancer over time if the fibers are inhaled or ingested, and there is no known safe measure of asbestos exposure. Although asbestos is a toxic mineral, it is essential to remember that it does not cause harm if left undisturbed. Any insulated part of the house could potentially have asbestos-containing material.
As an area vulnerable to heat transfer, the attic is the place to find insulation material that may contain asbestos. Usually, many attics are empty, and some homeowners may want to utilize the extra space. A well-insulated attic is a perfect storage place, but it must be safe.
Looking for Signs of Asbestos and Dealing with Vermiculite Insulation
The primary safety rule is not to disturb anything in your attic that you think might contain asbestos. If the attic is finished, look for ceiling tiles, popcorn ceilings, or textured paints. These would need laboratory tests to confirm the presence of asbestos.
Unfinished attics might show more visible signs of asbestos. If the insulation is made from vermiculite, there is a good chance it contains asbestos. Vermiculite is easily identified by its pebble-like appearance and brown, silver, or gold color. As most of the vermiculite used in the U.S. was mined from the same mine contaminated with asbestos, it is assumed that the vermiculite insulation contains asbestos.
The expanded vermiculite is lightweight, fire-resistant, odorless, and a component of numerous wall insulation products. It is not recommended to open the walls and check for vermiculite. Always treat the material as if it contained asbestos by not disturbing it or hiring a professional if it needs to be removed. Disturbing or removing the insulation without professional help increases the likeliness of inhaling the asbestos fibers as they may float through the entire house and expose the family to asbestos.
If your loose-fill insulation fits the visual signs for vermiculite, avoid disturbing it and make sure:
children are not allowed in the attic
the attic is not used
the cracks or holes in the ceiling are sealed under the insulation
around light fixtures and the attic hatch, caulking is applied
Over time the vermiculite-based insulation may have fallen inside the walls. Therefore, to prevent insulation from falling through, you should seal all cracks or holes with caulking around:
window and door frames
along baseboards
around electrical outlets
Hiding Spots for Asbestos Near the Attic
While it's most likely to find asbestos in spaces like the attic, there's a chance that other construction materials also contain the toxic mineral. In many cases, it's better to cover these materials instead of removing them. The following areas should be inspected for asbestos before undertaking any home renovation projects:
exterior surfaces: cement roofing and siding shingles on the exterior of your home
floor and ceiling tiles
adhesives: the backing on vinyl flooring sheets and stick-on-tiles
textured wall paint
popcorn ceilings
pipes insulation
Construction products in good condition may not release fibers. Always contact a professional if a material shows signs of damage such as tears, cracks, or deterioration due to older water damage. Don't touch the product when examining; you may unintentionally release fibers into the air. Asbestos fibers can become airborne when:
disturbing loose-fill vermiculite insulation
removing deteriorating roofing shingles and siding containing asbestos
tampering with roofing felt
sanding or scraping vinyl asbestos tiles
breaking apart acoustical ceilings tiles
sanding or disturbing acoustical plaster that gives ceilings and walls the soft, textured look
sanding or scraping older asbestos coatings such as roofing compounds, spackling, sealants, paint, putty, caulking or drywall
drilling, sawing, or smoothing rough edges of asbestos materials
Remove the Asbestos From the Attic Only When Necessary
If there's vermiculite insulation in the attic and you want to remove it, keep in mind the recommendation of the U.S. Environmental Protection Agency is to leave it undisturbed. The best is to hire a qualified asbestos removal professional trained and certified to handle asbestos. If you have no option but to remove existing asbestos insulation without professional assistance, please consider these steps to ensure your safety:
remove insulation safely - secure the attic from the rest of the house
wear a HEPA mask
water the material adequately to prevent dust
seal the debris in leak-tight containers or bags
dispose of the debris at approved depots