What Is Talc and How Is It Related to Cancer?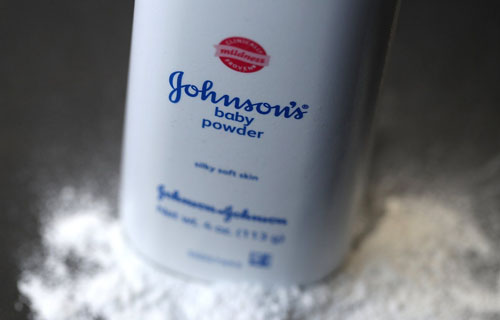 Known to the general public as a body powder, talc is a naturally occurring mineral found in rock deposits all over the planet. Once it is taken from the earth, talc is assigned a powder form that provides specific functions in many industries including paper making, plastic, rubber, paint and coatings, food, pharmaceuticals, and ceramics.
The mineral was introduced as a baby powder in 1894 and advertised aggressively worldwide as absorbing moisture and reducing friction, and thus, helping to prevent rashes as well as chafing and other skin irritations. In October 2019, pharmaceutical goods company Johnson & Johnson has voluntarily recalled 33,000 bottles of talcum powder after U.S. health regulators found trace amounts of asbestos in the samples tested.
Why Talc-Based Powders Can Pose a Serious Health Risk to Infants?
Talc-based powders have filled the shelves stores for years. For generations, parents have depended on these products to prevent children and infants from developing dry skin or diaper rashes. Over time, the particles of talc can make their way up to the ovaries, where they may cause damage. Children exposed today to these talc-based products may become ill later in life because of the long latency period associated with asbestos-related diseases.
"There are a lot of things that are used out of a matter of tradition, or the fact it seems to work for specific children, but the big take-home message is that we don't recommend powders", stated a leading pediatrician, Dr. David Soma with the Mayo Clinic's Children's Hospital.
It's important for parents to be aware of the potential dangers of using talcum powder on infants. Several studies on the use of baby powder made from talc and its possible health effects have shown that there are two possible risks that parents should know about:
Respiratory issues - Dusting an infant or child with talc can create large clouds of powder that can pose a serious danger. Inhaling talc dust can cause severe breathing difficulties and other serious problems. The American Academy of Pediatrics points out that baby powder can cause chronic respiratory problems and serious lung damage for babies if they inhale the particles.
Cancer concerns - Decades of studies by independent medical experts around the world have been exploring the possible connection between talc and asbestos cancer risk. When viewed under the microscope talc particles may appear to be fibers and have been identified as such. Talc may also form as true mineral fibers that are asbestiform. Asbestiform is a term used to describe the crystallization habit of minerals that form a fibrous state. The term "asbestiform talc" has also been applied to talc containing asbestos. Geologically, mineral talc tends to occur in close proximity to asbestos, a substance known to cause cancers in and around the lungs when inhaled. Notably, recent studies have also linked asbestos exposure to cancer of the larynx, gallbladder, bladder, and small bowel.
Uprising Concern About the Use of Talcum Powder and the Development of Ovarian Cancer
Not only is talc-based baby powder dangerous for babies, but adults that also use talc powder on parts of their bodies to absorb moisture or soothe rashes or friction on the skin found to be at increased risk of developing cancer. Studies conducted in recent years showed that frequent use of talcum powder could lead to ovarian cancer due to accumulation in the ovaries causing severe inflammation over time and, ultimately, to the formation of malignant tumors. Even though talc is thoroughly refined, this process cannot completely remove asbestos particles from talc-containing products.
Talcum powder has been used for a prolonged period of time as a lubricant in cosmetics and for personal hygiene. Roughly 21,000 cases of ovarian cancer are diagnosed annually in the U.S. and about 14,000 women die from it. Of the women diagnosed with ovarian cancer, more than 25% said they had used powder talc as part of their feminine hygiene routine.
Concerns over the potential link between talcum powder and ovarian cancer have been suspected for decades. However, the manufacturers have sold talc powder as a safe product, intentionally withholding information regarding health risks. Nowadays, the health-care conglomerate Johnson & Johnson is still facing thousands of lawsuits over its talcum powder products. More than 5,500 women have claimed that Johnson & Johnson's talc-based products have caused them to develop ovarian cancer.
Products Containing Talc Have Also Been Linked to Respiratory Diseases
Talcum powder products are harmful to the lungs. When adults inhale talc, the fine particles of the substance enter the lungs, they scratch the surface of the tissue in the respiratory system, leading to scarring that blocks the absorption of oxygen, causing irreversible damage to the lungs that, in the end, can be fatal. Chronic inflammation caused by breathing in talcum powder can induce respiratory conditions such as:
Bronchiolar obstruction
Pulmonary fibrosis
Acute or chronic lung irritation
Interstitial inflammation
Besides Johnson's Baby Powder, other talcum powder brands associated with past asbestos contamination include:
Cashmere Bouquet Body Talc
Coty Airspun Face Powder
Bauer & Black Baby Talc
Desert Flower Dusting Powder
English Leather After Shave Talc
Friendship Garden Talcum Powder
Kings Men After Shave Talc
Old Spice After Shave Talc
Faberge Brut Talc
Pinaud Clubman Talc Powder
Rosemary Talc
ZBT Baby Powder
To reduce the possible risk of cancer from talc products, people can use commercial talc-free products and talk to their doctors about their concerns.