Is There Asbestos in My Makeup?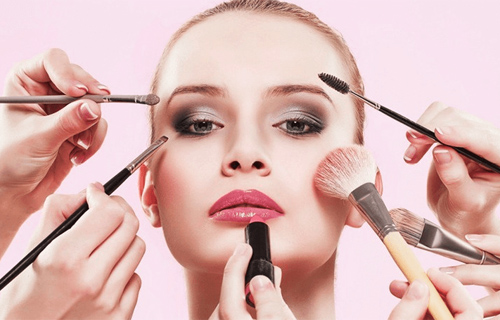 Throughout the 20th century, and especially the first half of it with the World Wars occurring, the United States was putting a large part of its resources into adequately equipping the military to ensure that they succeeded in combat.
Asbestos, a fibrous mineral soon became everybody's saving grace, as its fireproofing qualities and its low cost allowed for cheap military equipment to be built quickly and in large amounts in order to be sent to the combat zones so that operations would not be comprised by faulty apparatus. However, as the popularity of the miracle fiber increased, it inevitably made its way into the day-to-day medium as well. Pipes and electrical wiring were lined with asbestos mixtures in a growing number of households despite the serious concerns about such an exposure being raised by a few medical professionals at the time, including the Surgeon General himself. Nowadays, it is a well-known fact that asbestos exposure is the cause of mesothelioma, a grave form of cancer that only generally has a two years life expectancy after diagnosis.
Cosmetic Talc and Asbestos Concerns
The only way for asbestos to be a part of the components of makeup products is through talcum powder that has not been tested and purified after extraction, and so it ends up contaminated with asbestos. Most of these products are:
face powders
eyeshadows
blushes
foundations
creams
For the average person shopping for makeup, there is no foolproof method to determine that the products that interest them do not contain any asbestos. In fact, the U.S. government labels any items that may have a percentage of 1% asbestos as asbestos-free since it is their view that no harm could be caused in these conditions.
The Makeup Industry and Asbestos
When it comes to asbestos in make-up, its presence in the compounds has been explained by its association with talc, which is a component of many products in the cosmetic industry due to its quality of absorbing moisture. Both talc and asbestos are minerals and in most instances, in their natural states, they are found in the same deposits in the ground. The concern regarding the contamination of talc with asbestos fibers dates back to the 1970s when regulations of asbestos use were in motion.
The U.S. Public Interest Research Group, otherwise known as PIRG released a comprehensive statement in March 2018 about their discovery of asbestos in makeup items as sold by Claire's. In their public statement, PIRG explains that they tested four products and in three of them they found a high concentration of asbestos.
The following brands of Claire's makeup tested positive for asbestos:
Mint Glitter Makeup Set
Pink Glitter Palette with Eyeshadow & Lip Gloss
Bedazzled Rainbow Heart Makeup Set
Pink Glitter Cellphone Makeup Compact
Professional Eye Make-Up Kit
Rainbow Bedazzled Star Make Up Set
Ultimate Mega Make Up Set
Metallic Hot Pink Glitter 48 Piece Makeup Set
Rainbow Glitter Heart Shaped Makeup Set
Eventually, it did not take long for the products to be taken off the market, however, watchdog groups are still fearful of Claire's not being an isolated case given the history of big companies and asbestos usage to the detriment of consumers in the United States.
Unfortunately, Claire's isn't the only youth-focused retailer with an asbestos problem on its hand. The FDA also confirmed a product called Just Shine Shimmer Powder, sold by Justice - a popular tween clothing store - tested positive for asbestos.
The cosmetics and packaging manufacturer behind City Color and Max Mell - Beauty Plus Global Inc., has voluntarily recalled some of the products for the makeup line that also tested positive for asbestos contamination:
Beauty Plus Global Inc. City Color Cosmetics Timeless Beauty Palette - SKU #849136012958, Lot No. 1510068/PD-C864R
Beauty Plus Global Inc. City Color Bronzer (Sunset) - SKU #849136016017, Lot No. 160634/PD-P712M
Beauty Plus Global Inc. City Color Shimmer Bronzer (Caramel - SKU #849136017106, Lot No. 1612112/PD-840
Beauty Plus Global Inc. City Color Collection Matte Blush (Fuchsia) - SKU #849136008807, Lot No. 1605020/PD-840
Is asbestos in makeup dangerous?
The average woman uses every single day products containing more than 150 different chemical ingredients, according to the Environmental Working Group, an activist group that specializes in research and advocacy in the areas of toxic chemicals among many others. Many of these chemicals contain endocrine disruptors, which can affect hormonal balance and fertility. Some contain ingredients that are strongly suspected of causing cancer.
Tremolite is not used commercially but can be found as a contaminant in talc, a key ingredient in many cosmetic products. Talc is added to makeup because it absorbs moisture and reduces the appearance of oily skin. It is a common ingredient in eye shadows, blushes, foundations, creams, face and body powders.
Many consumers who have used cosmetic talc know that talc is by its nature a dust product, easy to breathe in, which is the main route' asbestos gets into the body. Different asbestos-containing materials have different concentrations of asbestos fibers, and this affects how friable they are. The term "friable" means that the asbestos is easily crumbled by hand, and is therefore likely to release breathable fibers.
The risk from exposure to asbestos in the non-occupational setting is generally considered lower and less frequent compared with asbestos workers who may be exposed to significant amounts of asbestos on a daily basis.
The fact that asbestos-related diseases have a long period of latency, up to over 50 years, makes it difficult to prove causality. This means that even if asbestos is discovered in makeup products, the law says nothing about what should be done about it, more precisely, no law in the United States calls for the talc used in makeup to not contain asbestos.
In addition to cosmetics, talc is added to many other consumer products including deodorants, powders, soap, feminine hygiene products, contraception devices, pills, textiles, chalk, children's balloons, clay, and crayons.
How to Avoid Asbestos in Makeup
Talc is a particularly common ingredient in the lower quality formulas and it's best to avoid both cosmetics and personal care products that contain it. If you're really intent on using a product with talc, double-check that the company you are using has certified that their talc is free of asbestos in its products.
In March 2019, senators Dianne Feinstein of California and Susan Collins of Main introduced the Personal Care Products Safety Act that would hopefully protect consumer health and strengthen the Food and Drug Administration's efforts to ensure safety and enforce clarity across a largely unregulated cosmetic industry.
Some talc-free makeup brands you should check out:
Everyday Minerals
Au Naturale
Vapor Organic Beauty
Cover FX
Makeup Geek
Ecco Bella
Rejuva Minerals
Impulse Cosmetics
Smashbox
Silk Naturals
Pacifica
Afterglow Cosmetics
MBA Cosmetics
Epic Mineral Beauty
Nvey Eco
Shiro Cosmetics
Shea Moisture
Star Crushed Minerals
Origins
Juice Beauty
Burt Bees
100 Percent Pure
Honest Beauty
It Cosmetics
Josie Maran Cosmetics
RMS Beauty
Jane Iredale
Jurlique
Affordable Mineral Makeup
Omiana
Pur Cosmetics
It appears the only practical way to not have to worry about asbestos in makeup is to avoid products containing talc altogether. In this sense, it is important to be familiarized with the various terminology referring to the same substance. Therefore, talc, cosmetic talc, talcum powder or magnesium silicate, all have the possibility of being contaminated with asbestos.